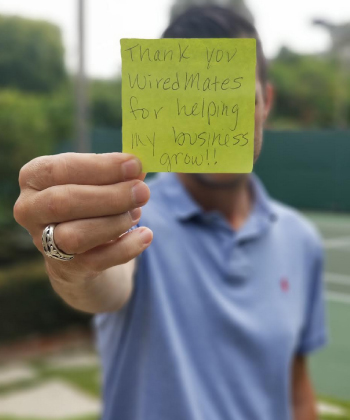 WiredMates is an online community powered by recommendations and referrals that are vetted and trusted by members of the network. The platform is designed to make it easy for members to find service providers and professionals that have specialized skills, expertise or advice. There are many reasons for service providers and professionals to join WiredMates. Here are just few.
1. Help People Find Your Services
Whether you're a painter, dentist or any other professional, once you join the WiredMates community you don't need to ask for referrals. The members that you've worked with will recommend you to other members. A member either recommends you or takes no action at all. Recommendations help everyone in the WiredMates community avoid the hassle of searching for the best professional/service provider or becoming a victim of false online reviews.
The WiredMates platform is friendly and easy to use. Members can choose from your preset statements to endorse you and/or leave written private recommendations for their friends to provide more details regarding their experience.
2. Develop Your Brand
Upon joining WiredMates, you'll want to set up a business profile to promote your skills and accomplishments. You can post educational articles on topics that community members will find helpful. For example, if you are a contractor, you could post an article on "The Ten Most Important Questions to Ask a Contractor Before You Commit." Your digital business card can also accommodate a video and a podcast to help you to better showcase yourself and your business.
3. Expand Your Network Without Lifting a Finger
Once you join WiredMates, you now have an entire community of potential prospects, clients and/or sources of referrals. When you set up your WiredMates company profile, a digital business card is created, which you may edit at any time. This card can be viewed by everyone in the WiredMates network. As the network grows, more and more people will see your profile and "take" your digital business card. You don't need to do anything. Just sit back and let the network work for you!
4. Position Yourself as an Expert in Your Field
If you contribute useful information to the WiredMates community, you can gain a reputation as an expert in your field. With satisfied past or current clients and members of the WiredMates community, you're already on the path to more referral opportunities. As you grow your business and develop quality relationships within the WiredMates network, positioning yourself as a trusted member is a clear path to immediate and future success.
5. Stay Organized and Keep Contacts Up-to-Date
By organizing and filing WiredMates cards in your "My Wires" folder, it's easy to search and retrieve any contact. You can tag contacts for convenient searches and jot down notes to remind yourself later of the interaction.
You can automatically synchronize your WiredMates information with all your devices so you have information you need anytime, anywhere. When anyone in your folder changes jobs or contact information, you'll receive automatic updates to your existing cards.
Bringing people together for a common goal is what WiredMates is all about. Being an active part our community is rewarding. So don't stand on the sidelines—start relying on recommendations for service providers and professionals from people you trust. Use the power of WiredMates.